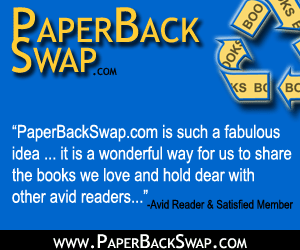 Yes, it's time to do another book website review, and I have a special reason for looking at this one today. Paperbackswap, is a lot like Bookmooch, the site I reviewed earlier. There are, however a few differences. If you are unfamiliar with the concept of book trading sites, I suggest you check out the previous post first.

First of all, despite the name, Paperbackswap is a trading website for hardback, audio, AND paperback books. Now, here's what unique about their system:

1. First In, First Out (FIFO)- Unlike Bookmooch, users don't get a choice about who they swap books with. This means that you are guaranteed to be mooched from eventually, since your book gets put in a "queue" of available books until it is your turn to send something out.

2. Account settings- You can set your account so that you will only accept swaps for certain types of books. For example, you could state that you don't want books from smoking homes, or would rather not be sent ex-library books. This is mostly because there is not condition notes system like Bookmooch. This way, you can avoid books you would rather not get without having to check each book continually.

3. FIFO Wishlist - Paperbackswap will "save" any book you have on your wishlist that is posted into the system for 48 hours. Just like with swaps, you have to wait your turn. Bookmooch has a first-come, first-served type system, so this is a convenient feature if you don't check your email often and you have a large wishlist.

4. PBS money. You can print postage right from the Paperbackswap site (although it costs a little more than normal media mail). You can also use your "money" to buy additional credits if you run out and there is a book you really want.

5. Initial credits- Once you post your first 9 books to be traded, you get free credits to use right away. *IMPORTANT* This brings me to the reason I posted this now. Starting October 5th, 2007, members will only be granted 2 credits. Previously you were given 3. So if you've been thinking about joining, now is an excellent time to do so! Make sure you post those books before October 5th, and enjoy your extra credit.

And if they ask, tell them Greycat133 (that's me!) sent you. That way I can add you to my buddies list! :-)