Today I have a great guest post from Allison of the blog The Allure of Books. She's going to share one of her favorite Christmas movies (and one I've never heard of!). So without further delay, take it away Allison!
When I was a kid, my mom always brought out a special basket of holiday-themed books in December. It was also the only time I was allowed to watch the movies on the "Christmas" shelf in the movie closet.
No book or movie was more beloved than Emmet Otter's Jug-Band Christmas. Y'all, it became a tradition to watch it every year. In fact - I still do. No matter how old I get, I'll never grow out of this one.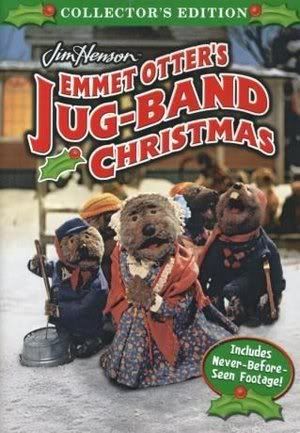 Emmet and his mother are having trouble making ends meet, and they're both upset at the thought of not being able to buy each other Christmas presents. A local talent show is announced with money offered to the winner. Both Emmet and his mama enter the competition secretly hoping to surprise the other by winning.
The songs, the characters...all of it is exemplary. This movie is one of the things that defines Christmas for me. It probably wouldn't feel like the holidays if I didn't dig it out and watch it.
Emmet Otter's Jug-Band Christmas could not be any cuter, seriously. I don't care who you are. Even if you aren't normally a fan of Jim Henson - make an exception! I don't care how young, old or jaded you think you are. Watch it! (It is available instantly on Netflix right now by the way, so no excuses!)
Even the villains are awesome:
So, what are your favorite holiday movies?
Definitely looks like one I will be looking at! Now off to go check my Netflix queue...
Thanks for the great post Allison!