Today I'm very happy to have Ashley from Book Labyrinth as my guest here at The Shady Glade. Ashley's been a frequent visitor to the blog, most recently as one of our judges for the 2011 YA Bloggers Book Battle. Ashley wanted to write a post about her favorite books discovered through blogging. So take it away Ashley!
Hi everyone! I'm Ashley and I run
Book Labyrinth
. Thank you so much for having me today, Alyssa! Many congratulations to you on your 5 years of blogging, which is such an incredible milestone!
Since I started blogging about a year ago I've read and reviewed a lot of amazing books. Some of these amazing books are so amazing to me because: without blogging? I probably never would have picked them up. Some of this has to do with the books being outside my preferred genre, some to do with personal bias, and some just wouldn't have been on my radar.
Without further ado, here are...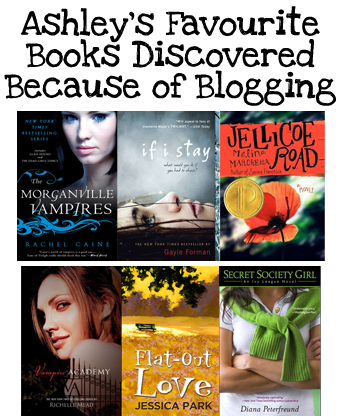 The Morganville Vampires series by Rachel Caine:
I am not a fan of vampires. Seriously,
not
a fan. But I kept seeing good reviews for these books, and by this point I had already really enjoyed another vampire series (see below), so I figured I would give them a try. Wow, what can I say? These books are so addictive, and I totally fell in love with the residents of the Glass House and the whole crazy town of Morganville.
If I Stay by Gayle Forman:
I never used to read any books that I thought might be sad. I still prefer a HEA over anything else, but blogging has taught me to widen my reading horizons. As long as a book has some sort of hope to it, I can now appreciate some beautifully written books that are also heartbreaking. I'm so glad I read 'If I Stay' and its sequel, 'Where She Went'.
Jellicoe Road by Melina Marchetta:
This is such a gorgeous book, and before blogging I definitely overlooked it. It sounded incredibly serious and a bit difficult, so I looked right past it. After seeing so many positive reviews on blogs I had to check it out, and I am beyond thankful I did.
Jellicoe
is now one of my favourite books of all time, and I've read (and loved) almost all of Melina Marchetta's other works as well.
Vampire Academy series by Richelle Mead:
See above, re: vampires. Plus I mocked these books for so long because of their truly terrible covers. However when 'Last Sacrifice' came out so many people were going insane over them I figured I had to check out these books. Well, they were definitely worth reading. I adore Rose so much, and pretty much fell in love with all the Vampire Academy characters.
Flat-Out Love by Jessica Park:
Before blogging I never would have picked up a self-published novel. I actually didn't really know much about them. I had read Jessica's previous YA novel, so I jumped at the chance to read and review an eARC of "Flat-Out Love". It's definitely one of my favourite books of the year (I even organized a
blog tour
for it), and I would have missed out on it if it weren't for blogging and accepting eBooks for review.
Secret Society Girl series by Diana Peterfreund:
Of any of the books I've listed these are probably the ones I would have read without blogging. Contemp books are where my heart is, I adore secret society books and movies, and I love to read about college aged protagonists. However, before blogging I had never heard of these. It took a couple of reviews to put them on my radar, and I ended up seriously enjoying them. These books? Deliciously fun. I described them to my friend as "the college/sexy version of The Gallagher Girls mixed with The Skulls." ... Right? So, so good. Plus I totally have a new book boyfriend on my list because of them.
Isn't it amazing how you can discover new favourite reads through reading blogs? What books have you discovered and fell in love with since blogging? I'd love to hear about them!
Thanks for a great guest post Ashley! Hopefully everyone has found some new books you might love too. :) Ashley has also contributed a challenge to the blogoversary, so keep an eye out for that later today.
About Ashley:
My love of reading was pretty much an inevitability, as my parents read to me even before I was born. I have a real passion for YA literature which developed in my teen years and still continues on strong. Besides reading a good book, I love watching TV and keeping up with pop culture news (Entertainment Weekly, anyone?). I started Book Labyrinth in August 2010 to share my love of reading and to connect with other YA readers and book bloggers.